Denton Downtown Properties - About Us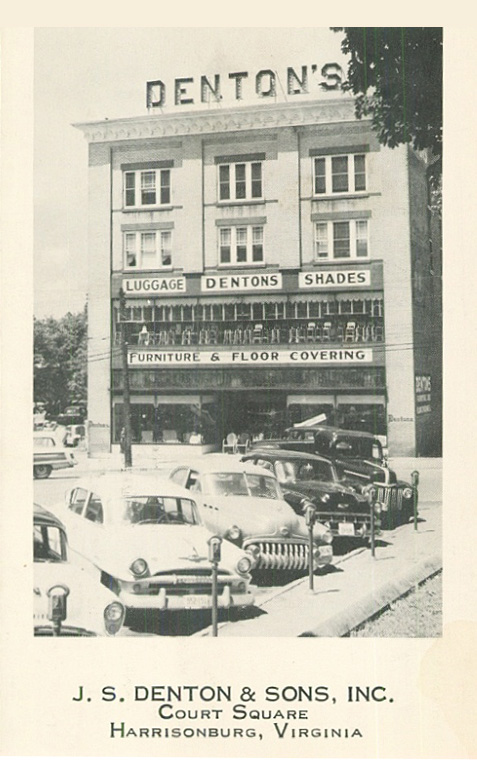 Denton's Furniture on Court Square in downtown
Harrisonburg, circa 1921. The Denton Center was
renovated in 1996 to includes retail space on ground
floor and 44 apartments on upper levels.
About Tripp and Linda Denton
Tripp was born and raised in Harrisonburg, the fifth generation of Dentons still living in Harrisonburg! Tripp's great grandfather, Jefferson Simon (J.S.) Denton, started a furniture business in 1878; in 1921 he moved the furniture business to downtown Harrisonburg. Denton's was a downtown destination until 1992! The Dentons closed the furniture store to pursue commercial real estate and a communication business.
The real estate business is still going strong for Denton Downtown Properties with Tamarack Townhomes, the Hostetter Building which includes 12 offices on the second floor and 2,700 square feet of retail space where the Oasis Fine Art & Craft Gallery currently resides. The Hirsch Building has two upscale apartments on the second floor; a popular burger joint operates on the ground floor, Cuban Burger.
Tripp worked with his father in the communication business since 1987; he started Intouch Communications in 1996, offering paging services, two way radio service and tower management. Presently, Intouch Communications supplies the Denton Center with internet service.
Tripp and Linda, business partners since 2000, enjoy working in Harrisonburg. If Denton Downtown Properties does not have a location to suit your needs, they will happily help you by contacting other business associates who may have what you seek.
The Dentons are members of the Harrisonburg Rockingham Chamber Commerce and members of the Downtown Renaissance.
You will find their customer service personable, prompt and reliable.